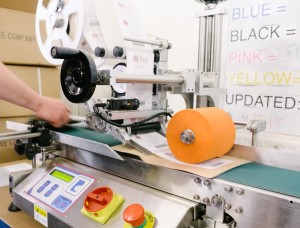 After launching a mail order business in 2013, Pact Coffee saw orders shoot through the roof and quickly realised it needed to switch from manually applying labels to automating the process because of the huge number of packs it was distributing to a growing customer base. 
As the firm got busier it was taking up to four staff their entire mornings applying labels to the bags of coffee being posted out to users of the on-demand service, a labour-intensive and time consuming routine that carried the risk of human error. 
The fledgling company turned to Advanced Dynamics Ltd, for an automated solution needed to cope with the 4,000 bags a day it was packing at its facility in Bermondsey, London.
Pact Coffee operations manager, Matthew Devine, had visited Advanced Dynamics' stand at the Packaging Innovations exhibition in February 2015, and knew the entry level ELF-20 desk top labeller being displayed was just what he required. He said, "None of the other companies I spoke to at the show were able to come up with a simple solution. Then the Pack Leader machine on the Advanced Dynamics stand caught my eye. I like the ELF-20. It is small – important to us as space is at a premium – and user friendly. It has doubled our throughput, giving us a step up in efficiency."
The ELF-20 has a wide application range of up to 180mm packs, applying labels of up to 120mm wide and 300mm long, while the user friendly operating system and microprocessor controls have many added features that can boost production.
Following trials the system had to be customised to cope with Pact Coffee's pouches, but this was "all part of the service" to ensure the company's switch from a manual operation to an automated labelling solution went as smoothly as possible, explained Advanced Dynamics' managing director Malcolm Little. He said, "The ELF-20 can cope with flat cartons but Pact Coffee's pouches are very thin when flat, so the guide rail needed reworking to cope with the packs efficiently. We also had to reposition the sensor to detect their presence."
With these adjustments in place and averaging speeds of 30-40 packs per minute, the ELF-20 is helping the company despatch twice the volume of products on a morning than it used to while at the same time enabling Pact Coffee to move staff to more productive tasks.