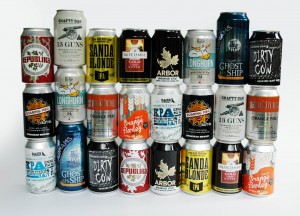 The Indie Beer Can Festival: 2016, the world's first UK and Eire-wide competition to crown the very best independent beer in cans, is back by popular demand.
Launched by the Can Makers in partnership with the Society of Independent Brewers (SIBA), the event will be judged by four industry experts including rising star, Ben Hulme, Head of Beers, Wines and Spirits at Lidl UK. Independent brewers can enter the competition at www.indiebeercan.co.uk and vie for the unique opportunity to showcase their brews in a canned packaging format at the festival final.
Brewers can choose to enter one of three categories: 'Best Ale', 'Best Lager' or 'Best 'Other'. Finalists will automatically be eligible for an additional category: 'Best Design' and one beer will be crowned overall 'Best in Show'.
Entries close at midnight on 11 December after which a first round of judging, based on written entries, will take place. Returning to the judging panel alongside Ben Hulme is Adrian Tierney-Jones, award winning writer and journalist. They will be joined by Annabel Smith, a renowned beer Sommelier who also worked as beer taster and a training manager at Cask Marque for a decade. Completing the line-up is Chairman of the panel, Martin Constable of the Can Makers.
Ben Hulme said, "Consumer demand for independent beer is increasing year-on-year and I'm personally excited about how this market is continuing to evolve. For the last twelve months brewers and consumers have been dipping their toes into the canned beer market; now that market is preparing to go mainstream, I can't wait to see where we are in a year's time. It's great to be involved in an event that is helping to drive this trend."
Mike Benner, SIBA's Managing Director, added, "It is great to see more innovative independent brewers investing in canning and supplying flavoursome beers in a can.  Cans are light, portable and quick to chill and therefore offer brewers new markets to enter. Add to that the incredible opportunity they provide for designers and brand owners to communicate the beer's personality, and we can see why the can is gaining so many fans. SIBA is proud to support this fantastic event and we will be encouraging all of our craft brewing members to enter this prestigious competition."