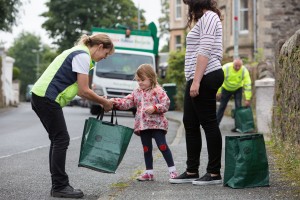 The Isle of Bute has joined the Zero Waste Towns initiative, which harnesses the efforts of residents and businesses to reduce waste, recycle more, and use resources efficiently.
Fyne Futures Ltd, a charity committed to environmental sustainability on the Isle of Bute, will receive support worth £200,000 to implement the initiative locally via a number of projects.
Last year, Dunbar in East Lothian became Scotland's first Zero Waste Town. Both Dunbar and Bute join a growing network of Zero Waste municipalities throughout Europe and across the world, including towns in Holland, France, Germany, Spain, Italy, Slovenia and Romania.
Iain Gulland, Chief Executive of Zero Waste Scotland explained, "The Zero Waste Towns initiative recognises the crucial role that communities play in changing people's behaviour to reduce and prevent waste. Both Zero Waste Scotland and our partners at the Scottish Government are committed to promoting community-level action in as many towns in Scotland as possible in order to meet our target recycling rate of 70 per cent and reduce waste by 15 per cent in Scotland by 2025. 
"As part of this intensive approach, our first priority on Bute will be to inspire, educate and empower communities with the knowledge and skills to prevent waste, increase resource efficiency and thus reduce landfill costs and create jobs. We will also look at the impact and outcomes of each project to help us make the most of similar future projects within other Scottish communities."
The project will be coordinated by local social enterprise organisation Fyne Futures, which will work closely with Zero Waste Scotland, Argyll & Bute Council, local groups, businesses and residents to coordinate a comprehensive approach to transforming attitudes to waste in the town. 
A number of community-led initiatives will be introduced, including the launch of an enhanced recycling collection trial in the Bush/Serpentine area, the introduction of a pilot food waste collection service, extra recycling facility, and a community engagement programme.
Environment Secretary Richard Lochhead added, "Becoming a member of the Zero Waste Towns initiative represents a crucial milestone for recycling and re-use on the Isle of Bute. Not only will it receive much-deserved recognition among a network of similar, forward-thinking Zero Waste towns and municipalities throughout Europe – the financial support will enable residents to deliver a range of initiatives that are firsts, anywhere in Scotland."