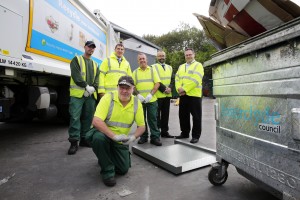 NEW guidance ahead of legislation to improve recycling quality at Scotland's material recovery facilities (MRFs) is being launched at the RWM event in Birmingham.
Developed jointly by Zero Waste Scotland and the Scottish Environment Protection Agency (SEPA) the Materials Recovery Facilities Testing and Reporting Guidance, provides assistance for licence or permit holders of MRFs in Scotland, with the introduction of sampling and testing regimes that are consistent with the requirements of the Code of Practice.
The Scottish Government has introduced the new Code of Practice for materials with the aim to improve the quality of materials entering the market, with the intention of creating the confidence needed to invest in the expansion of Scotland's reprocessing sector. Ahead of this, Zero Waste Scotland provided grant funding for MRF operators to purchase the equipment needed to enable them to meet the requirements of the code.
The Code applies to facilities that receive, or are likely to receive, 1,000 tonnes or more of mixed dry recyclable materials (comprising of two or more materials) or separately collected dry recyclable waste for sorting, over a 12 month period.
Some local authorities are already planning ahead, and working collaboratively is Inverclyde Council. The council collects material for the MRF it owns, which is operated by Greenlight Environmental.
Iain Gulland, Chief Executive, Zero Waste Scotland explained, "The MRF Code of Practice is all about driving the quality of material being generated through recycling, helping to identify where there might be issues, and helping to address them. While the Code of Practice is a change for local authorities, Zero Waste Scotland is providing support via both the new guidance we're launching here at RWM, which outlines clearly the responsibilities of MRF operators under the legislation, and we have also provided financial support to enable the purchase of essential new equipment."