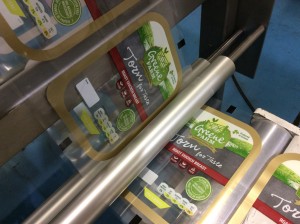 Macfarlane Labels has joined forces with Greene Farm Foods to launch a new, easy open & re-closable labelling system across their range of cooked meats.
The Reseal-it® system has been applied to Greene Farm's cooked meats including sliced chicken, turkey and beef as well as its new 'torn chicken' range.
The Reseal-it® solution has been described as an "easy to open, re-closable labelling system, which allows consumers to easily open products and reseal them again, without the fuss of cling film or storage containers". This ensures freshness and pack integrity while helping to prolong the life of the food product. 
Greene Farm Foods is seeing the benefits of Reseal-it® without any capital investment at their own plant. The company uses the film with Reseal-it® functionality that is already pre-applied at Macfarlane's facility in Ireland. This option is newly available in Ireland due to Macfarlane's continued investment in the Newtownmountkennedy plant.
Angela Campbell from Macfarlane Labels said, "We are thrilled that our Reseal-it® labelling system is a success for Greene Farm Foods. The company identified a customer demand for their cooked meat products to have an easy to open pack with a reseal solution and early customer feedback has been encouraging. We look forward to working closely with Greene Farm Foods in the future on similar products."
Kenneth Greene, owner of Greene Farm Foods added, "We are delighted with the new Reseal-it® label system on our range of cooked meats. Initial feedback has been positive and we understand that it is helping consumers to manage their weekly purchases of cooked meats better. We are very pleased with the early results and we are now looking at the possibility of extending the use of Reseal-it® to our other products."