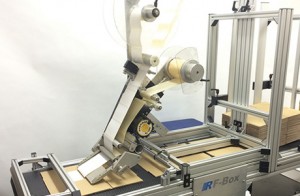 ROTECH has introduced a new machine which the firm claims enables fast, efficient feeding of secondary packaging such as flat boxes and cartons into and out of labelling and coding systems.
The offline, stack-to-stack RF-Box Feeder allows users to pre-mark flat cases prior to erection and filling. Rates vary depending on the box length and chosen marking technology, but typically range from 50 to 150 boxes per minute.
For many food operators, the market shift away from conventional supermarkets is driving a rise in the complexity of their logistics operations as demand grows for mixed cases and "little-and-often" deliveries to a wider range of locations.
Having a supply of boxes that are pre-marked with information about their contents and destination helps minimise the chance of human error.
Rotech director Richard Pether said, "Pre-labelled boxes tell operators what they need to do. If the box is already labelled 'prawn sandwiches' they know they should be filling it with prawn sandwiches, not ham. Each box can also be marked up with its destination or whatever code it needs to ensure products end up in the right place."
Offline coding speeds up overall operations by removing the need for a marking step within the packing line itself. This can be an important advantage in high-speed production environments.
Marking boxes while flat also offers the advantage of enabling users to apply codes and labels that will cover two sides of the box once erect.
Many of today's food manufacturing facilities face an ever-expanding variety of products passing through multiple packing lines. In these situations, pre-marking boxes enables users to install only as many marking systems as they need to meet their capacity requirements, rather than having to install a separate system at the end of each line.
For example, one early adopter of the RF-Box Feeder uses just two systems to mark up the boxes for 3.5 million packs of sandwiches each week.
The Feeder takes flat boxes from the bottom of a horizontal stack and feeds them through the user's chosen marking system, stacking them again neatly on the other side. Two conveyors working at slightly different belt speeds optimise the gap between each box, so a photocell can trigger the marking system as each item approaches. This enables the RF-Box Feeder to achieve the optimum throughput in terms of boxes per minute at the lowest possible belt speed.