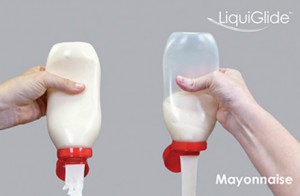 Non-stick mayonnaise packaging is being developed, which could finally allow consumers to eliminate food waste and enjoy every last drop!
American firm LiquiGlide has announced a licensing agreement with Orkla ASA, giving the branded consumer goods company rights to use LiquiGlide's slippery coating for mayonnaise products. LiquiGlide's slippery coating enables products to easily slide from packaging. The customised coating for Orkla's mayonnaise products is made entirely from natural ingredients.
"We chose to work with Orkla because they are an innovative and leading consumer goods company in the Nordics and the Baltics," said LiquiGlide CEO and Co-Founder, Dave Smith. "At LiquiGlide, we're changing the way liquids move."
LiquiGlide is a permanently wet, slippery coating that enables viscous products to slide easily. The ingredients for each custom coating are selected from hundreds of materials based on the specific needs of the applications, and each coating can be made entirely from food, meeting all safety standards.