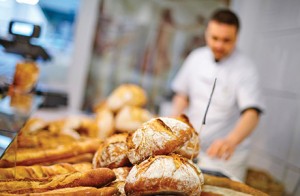 FORTRESS Technology has supplied seven Stealth metal detectors combined with Vector conveyors as part of a new, centralised bakery for a major retailer.
Each Fortress system acts as a critical control point (CCP) at the end of a packaging line. According to the site's primary contractor Frontline Packaging, Fortress's ability to meet extremely tight deadlines and the company's expert knowledge regarding retailer requirements were key considerations in clinching the deal as part of this multi-million-pound project.
The packaging section of the new bakery handles over 300 separate artisan products across its six lines, one of which can handle two product streams. Products range from cookies to farmhouse bloomers and French sticks, often in production runs that last just 20 or 30 minutes.
"The broad size range and frequent changeovers meant there is a lot of non-standard engineering involved in these lines," explained Tony Hacker, Managing Director with Frontline Packaging, the main contractor for the overall packaging installation.
"The time pressure was also extreme, with the initial enquiry arriving with us in February and a deadline to go live in June.
"So when I 'went shopping' for suppliers to provide the pieces of equipment that we don't build ourselves, I set a lot of store by which supplier gave me good support at the time of enquiry."
Each major supermarket demands that equipment suppliers comply with its own Code of Practice (COP).
"With the COP and the huge product range, the spec I was putting out to suppliers was as long as your arm, plus their response needed to be quick," added Tony. "A huge deciding factor was that Fortress already knew the specifications that the machines would have to comply with to meet the retailer's COP for metal detectors. It includes a wide range of things, from the sensitivity of the detector to padlocks on the reject bins."
All Stealth units use digital signal processing technology and have high sensitivity levels to ensure the detection of the smallest ferrous, non-ferrous and stainless steel contaminants.