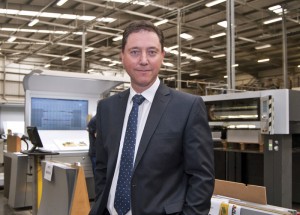 Elanders UK has more than trebled the size of its Elanders Packaging operation in Scotland with its relocation to Righead Industrial Estate in Bellshill.
With the move from its current site in Cumbernauld, the company has invested £2 million in both its 17,500 sq ft new premises and equipment which includes specialist digital print and high-quality finishing machinery.
Elanders Packaging specialises in printing for luxury packaging and labelling for the drinks industry, with a strong heritage in Scottish whisky through its acquisition of McNaughtan's Printers in 2013.
New equipment in Bellshill will include the latest HP digital technology with a digicon unit which will enable printing, die cutting, embossing and the preparation of pressure sensitive labels (PSL) for premium drinks brands, ready for self-adhesion at bottling plants.
As this new equipment uses state-of-the-art digital printing technology, it enables spirit manufacturers to introduce personalisation, which is perfect for gifting or limited edition expressions.
This unit will run alongside Elanders' existing wet-labelling equipment offering customers the full spectrum of labelling solutions.
To complement the digital print equipment, Elanders has also invested in a priming unit which treats any substrate and prepares this for digital printing – enabling a wider range of materials to be used, achieving the same quality as litho printing.
For the first time, Elanders will also be able to offer its clients in-house finishing services with the addition of a new gluing line as well as B1 hot foiling, die-cutting and embossing.
Chris Hewitt, managing director of Elanders UK, said, "Elanders always aims to be one step ahead when it comes to innovation within the packaging and print sectors meaning we are able to offer our customers the very best solutions to meet their individual needs.
"Our new site in Bellshill is more than treble the size of our previous site in Cumbernauld meaning we can expand our offering and purchase new cutting edge machinery to sit alongside our existing machinery, offering our customers more choice.
"Elanders has an ambitious growth plan which includes further investment in Scotland, building on the previous success of McNaughtan's within the whisky and premium spirits sectors.
"We are looking to invest in both our facilities and people in Bellshill and we expect to employ a number of new people over the coming months."