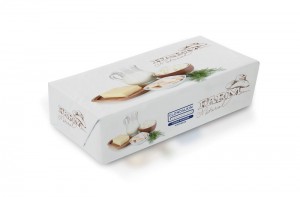 Clondalkin Kirchberg has launched an aluminum free butterfoil offering a more sustainable option to the dairy sector.
The Switzerland-based subsidiary of Clondalkin Group has a strong reputation in introducing alternative materials for aluminum and has launched a PE based foil for butter packaging.
Flow packs for butter are traditionally wrapped in aluminum or aluminum based laminates. So far these structures have  provided the best dead-fold, which is required for application on filling lines.
Clondalkin Kirchberg's investment in research and development has resulted in a film-based alternative, which also provides these characteristics with improved sustainability.
Sander Kool, Commercial Director of Clondalkin Kirchberg, said, "The environmental impact of packaging is at the forefront of the leading brands decision making processes."