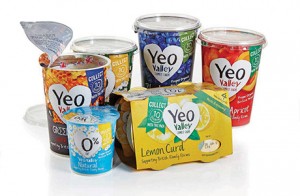 Clondalkin Flexible Packaging Bury has developed the unique coded lids for an extensive points-based loyalty scheme for Yeo Valley, known as 'Yeokens'.
The scheme, the brainchild of Yeo Valley Chairman Tim Mead, is running across the majority of its product range.  It is the largest customer promotion the brand has ever launched.
Yeo Valley is the largest organic dairy brand in the UK, producing many different products including: yogurt, cream, milk, ice cream, fruit compote and butter.
Clondalkin has printed a unique code number on the surface of most of the Yeo Valley brand lidded products, to ensure the printing ink does not contaminate the product.  The code is covered by the design and is only revealed when the polyester lid is peeled back.  Customers enter these codes online to collect a virtual currency, called 'Yeokens', which can be exchanged for a host of different offers, including visits to Yeo Valley, days out around Britain, Yeo Valley merchandise and charity donations.
John Chadwick, Managing Director of Clondalkin Flexible Packaging Bury, said, "It is the first time this printing technology has been used in the UK dairy market. We have already printed over 60 million unique coded lids for Yeo Valley and we wish them every success with their latest initiative."
Dan Rusga, Marketing Director at Yeo Valley, added, "As a company we have made a long-term commitment to unique coding and are confident that it will reap rewards for our business."
'Yeokens' codes appear on the Yeo Valley brand's organic products and are available in shops and supermarkets now.