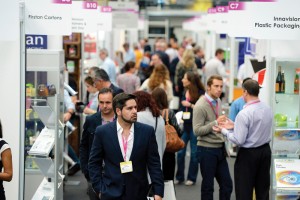 Packaging Innovations and Luxury Packaging London gets set for a new home and a host of brand new features for 2015.
THE iconic Olympia provides the venue for the sixth edition of Packaging Innovations and Luxury Packaging London.
The two-day exhibition, which is being held on September 16 and 17, will feature over 170 exhibitors including major names such as Leo Luxe, Fleet Luxury, HH Deluxe Packaging, and Schur Star Systems.
Show organiser, Easyfairs, claims the show has become a crucial part of the packaging industry and the new venue is a direct result of year-on-year growth.
Alison Church, Event Director, told Packaging Scotland, "We launched the show in 2010 at the Business Design Centre in London, which at the time was very good for the show.
"There was a nice feel to the venue and it was right in the heart of London. But we've outgrown that somewhat.
"We introduced Luxury Packaging as a small feature with a few stands in 2011. That's grown massively and been really successful. Moving to Olympia allows us to do a lot more with it."
Luxury Packaging London is the UK's only event dedicated the luxury packaging market. Leading brands already signed up to exhibit include Eckart, DS Smith and Iggesund Paperboard.
"There's no other forum in the UK for luxury packaging," added Alison. "There's definitely room in the marketplace for a show in the UK for luxury brands who want to take just a day or a few hours out of the office, and don't want to travel overseas.
"The luxury industry has a lot of really good heritage in the UK. This is a really nice opportunity for it to have a forum of its own to celebrate what's good about UK luxury.
"We're hosting a luxury packaging conference for the second year, featuring the likes of Diageo, L'Oreal, Coca-Cola, Lush and Harrods."
Alison says the overall show has almost doubled in size since 2010 and the new venue will give more flexibility than ever before.
"One thing we're well known for is providing a good blend of products and solutions and really good content, networking opportunities and the chance for people to immerse themselves into the world of packaging – what's new, what's coming up, what's innovative," Alison added.
"We've seen a steady growth in visitor numbers. The event has grown really strongly each year and I would expect the same again this year.
"The new venue gives us greater flexibility to do more with the look and feel of the show. Whereas we had split levels before, we're now all on one level in Olympia and there are no barriers between Packaging Innovations and Luxury Packaging, which will ensure smoother visitor flow.
"What makes the two complement each other quite nicely is that they both have the same focus in that exhibitors provide solutions to improve the look and feel on shelf – either to sell more products or engage with your customers in a different way. There's no hard and fast line between luxury and non-luxury, so visitors can see a full range of solutions from mass market FMCG products to high end prestige.
"We've got new features this year as we wanted to mix the show up a little bit given that we're in a new venue.
"We have the Great Innovation Debate. A panel of experts will be involved and there will be the opportunity from the floor to discuss what innovation is, what it looks like, where it comes from, and how we can be more innovative.
"We also have an innovation wall where people can put up ideas and questions to help inspire innovation within their own minds, read what other people think and start off conversations which will hopefully lead to new innovations.
"Also new this year is the Live Design Challenge, which will involve agencies pitching themselves against one another to design a piece of packaging in a live environment. Our Brand Innovation Theatre will involve brand design agencies talking specifically about branding. There will be Learnshops, Beauty and Drinks Symposia and Pimms O'Clock.We also have a bit of a London theme as well this year."
This event is one of several packaging exhibitions being held over the course of 2015. Alison believes they serve a crucial role. "From last year's post show survey, 94 per cent of visitors and 89 per cent of exhibitors said they viewed the show as being important to their business, which is a great testament to the show. From an exhibitor perspective, retention is really healthy with around two-thirds coming back year on year.
"Trade events are different in different industries. The great thing about a show like ours, and I really notice this through working on shows across different industries, is that our packaging show is very transactional. You don't have to rely solely on seminar content to get people there. The exhibitors actually drive most people to come to the show, and finding new products and new suppliers is top of the agenda for many of our visitors' objectives. The show is also a great networking opportunity, with lots of meetings being held at the event.
"Some business is done on the floor but mostly it's about exhibitors making the contacts to do business over the months following the show.
"The beauty of the packaging industry is that it will never be crushed by a recession. Products will always need to be sold and they always need to be packaged. I think what changed with the packaging industry during the latest recession was that there was more emphasis on being cost-effective. Generally it's a very healthy industry and you can definitely see over the last couple of years there has been a lot more buzz around the shows, with everyone looking to do things that are a little bit different."