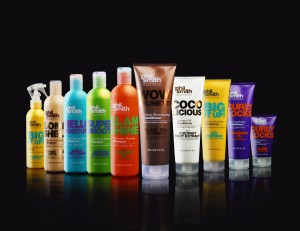 Phil Smith Haircare has received a stylish makeover from M&H Plastics.
The new range of Be Gorgeous shampoos, conditioners and hair enhancing products which are available, exclusively in Sainsbury's, features striking new packaging.
Moving from a more formal haircare regime to encourage a mix-and-match approach for customers, the whole range is imbued with a sense of fun and humour, echoing the personality of the popular hairdresser whose name it carries.
Importantly, the products are named according to the benefits that they bring but in a slightly tongue-in-cheek fashion.
Packaging the range to reflect this approach, M&H Plastics, part of the RPC Group of companies, provided a range of strong colourways and decoration to attract shoppers. The finished product was developed and filled by Laleham Health & Beauty.
Phil Smith Haircare Commercial Director, Katie Swan said, "We worked with the M&H team for a couple of years to bring this new style to market and their input has been very beneficial. Not only are the products increasing in popularity but the amount of coverage we are getting in the press is testament to both a quality product and its presentation. Details like providing the correct level of shine on the bottles and the quality of the printing enable us to go to market with confidence."