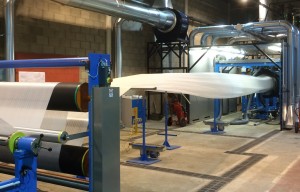 Following the announcement of Jiffy Packaging's acquisition by Airpack, S.p.A the first phase of a new investment programme, teased as 'the Jiffy secret' has been revealed.
The multi-million pound investment in state of the art extrusion technology will allow Jiffy to create mass market penetration. The new technology will manufacture polyethylene foam in a variety of thicknesses. From thin section foam for interleaving and surface protection, and thicker foams for cushioning and wrapping, to even thicker section foams for impact protection and insulation.
Extruding at an impressive 2.5m wide, with in-line lamination, winding and slitting capabilities, this new technology will enhance Jiffy's position as a leading manufacturer of protective packaging foam in the UK. And, with added capacity, greater flexibility and the quality that is known and expected of a brand such as Jiffy, the company will be exploring new markets and industries.
Jiffy will be making further announcements in the coming weeks relating to the second phase of this initial investment and says that this will create even further opportunities for their customers.
Managing director, Max Weller said, "We are delighted to reveal that phase one of our new investment programme is in place, allowing us to bring new products to market. We have already been clear about our ambitions to grow and this investment will allow us to accelerate that growth. Jiffy has new owners, new investment and will be entering new markets."