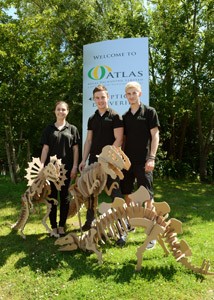 Amongst the many weird and wonderful, lean, mean flying machines plunging from Ilfracombe Pier at South West Birdman this year will be a flying Brontosaurus.  
This fiercest of contenders, made by the event's main sponsor, Atlas Packaging, is constructed entirely from corrugated board and measures three metres in length. It will launch from the Pier and take to the skies, piloted by two daring members of Atlas' team – Liam Gregory and Luke Avery.
Also on offer for the first time will be the Atlas Packaging dinosaur-themed activity marquee, where visitors will be invited to partake in 'Colour-me-Saurus' – a unique opportunity to decorate a 'Tricerabox' or 'Tyrannosaurus Box' and then turn their creation into a 3d model using a simple slotting structure.  Visitors will be able to marvel at the models on display which boast minute attention to detail.
Marketing assistant Charlotte Brend said, "The recently released Jurassic World movie gave me the inspiration to make dinosaurs our key theme. Our structural designer, Liam, has done an amazing job. We hope the public will be impressed with the amazing things you can do with a humble piece of corrugated board."
Jason Sharman, Atlas Managing Director added, "We understand that our contribution as the main sponsor, along with other smaller ones, will mean that entry to South West Birdman this year is free to all visitors for the first time. It's fantastic that this iconic event which attracts thousands of spectators each year is now accessible to all and we are delighted to help make this happen."