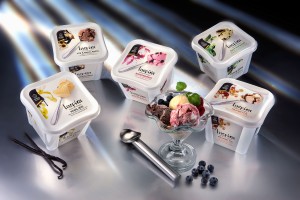 RPC Superfos has launched a customised pack for a premium ice cream, Inspira, from Norwegian producer Hennig Olsen Is.
The unique design, with a wave-effect on the rim of the lid, is injection moulded in polypropylene and features in-mould labelling on all four sides and on the base, with attractive artwork that reflects the quality positioning of the brand. The label also incorporates a transparent section on the base to enable the marbled-effect ice cream to be visible. In addition, the pack is tamper-proof.
While Hennig Olsen Is already offers many types of quality ice cream for various segments, the company wanted to launch a new series that had to be different. Inspira is ideal for those extra-special indulgent moments, as purchase director Carl-Christian Langfeldt explained, "Inspira ice cream caters to the premium segment and here we need an exclusive look – a new and exciting packaging. We are absolutely happy with the result, not least because of the waves on the rim and the transparent base that makes it possible to see our marbled ice cream."
Hennig Olsen Is has worked with RPC Superfos for over 20 years, using standard containers as well as bespoke packs for certain products.