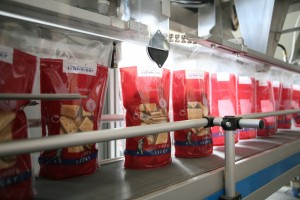 A pet food manufacturer is benefiting from two multihead weighers supplied by Ishida Europe.
The machines are providing effective solutions for the packing challenges of fragile dog biscuits and tough, awkwardly-shaped chews at Swiss-based Eric Schweizer.
Since the weighers were installed, the firm has experienced a 6% reduction in giveaway across all products packed on the Ishidas, with the machines expected to pay back the investment in less than two years.
The new packing line for dog chews takes full advantage of the accuracy of the weighers. With the new Ishida line, giveaway has been dramatically reduced and now on 750g packs, target weight is exceeded by an average of just 1.6g.
The 10-head weigher from Ishida's entry-level RS-Series has large 5 litre hoppers to accommodate the chews, which can be up to 18.5cm in length. Because the chews vary greatly in shape and in their tendency to become entangled with each other, the weigher operates in a variety of modes.
Weighments of simpler shapes can be run into the bagmaker (automatic mode). A second mode leaves a gap of around 20 seconds between each weighment, allowing close supervision by the operator. In a third mode, weighment release is entirely under operator control, using a foot pedal. The discharge chute has an opening through which the operator can reach in and sort out tangles or orient the chews more uniformly.
The new line is run by just two operators, compared with the three previously required. With over 40 different types of dog biscuits, some in as many as four different pack sizes, the new biscuits line packs many of these variants into doypacks in short production runs, with frequent changeovers.
Fast changeover is made possible by the easy-to-master interface, with its many presets. The layout of the SE multihead, with its relatively shallow angles and short drop distances, avoids excessive abrasion of the biscuits, and keeps product dust to manageable levels. It also takes just 10 minutes to clean the machine using a vacuum cleaner.