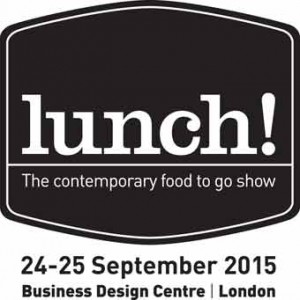 Top buyers from EAT, Tesco, Waitrose, Superdrug, British Airways, IKEA, Brakes, Elior, Baxterstorey, Sodexo, and Gate Retail Onboard are among the who's who of buyers to have already pre-registered to attend lunch! 2015, which returns to the Business Design Centre in London on 24-25 September.
Now in its eighth year, the trade event for the UK's food-to-go market's pivotal focus on innovation has made it a popular choice with many of the country's biggest operators.
Organisers say that thanks to glowing testimonials and a 44% rise in attendees in the last two years, the 2015 edition will be the biggest lunch! yet. To accommodate growing demand from a raft of new food, drink, packaging, technology, and equipment suppliers, a 25% increase in stands has expanded the show into an additional new hall on the Upper Feature Level – taking the total to 350 exhibiting companies. Over 6,500 key buyers and decision makers are expected to join them when doors open in just over three months' time.
"Once again, the high demand for stand space at the show reflects the ever growing popularity of the food-to-go sector," said group event director Chris Brazier.  "Rebooking for lunch! 2015 smashed all previous records, leading to the show's ground floor selling out in December, followed by the Middle Level in January, and the Innovation Zone in February.  Even with the addition of a new hall, the show is on track to be sold out within a matter of weeks.  It's a testament to the show's continuing success – and demonstrates just how important and essential lunch! has become to suppliers and buyers looking to do business."
The show's new hall on the Upper Feature Level will be home to the Innovation Challenge Showcase, VIP Lounge, new Artisan Ingredients Village, and new Menu Innovation Theatre (sponsored by Magrini).  It will host the popular live finals of the annual British Smoothie Championships, the Café Life Awards heats, and a new series of coffee, smoothie, tea and juice master classes.
The Working lunch! Theatre also boasts a new home for 2015. Although still on the Upper Feature Level, it's new position enables it to cater for a bigger audience. Running throughout the two day show, the free business seminars are renowned for attracting a host of high-profile brands and industry leaders from across the food-to-go retailing and contract catering industry.  The first headline Keynote to be announced for this year is a Q&A with Roger Whiteside, CEO of Greggs.