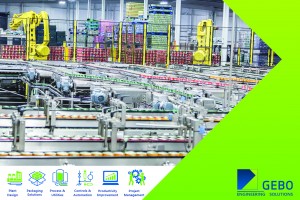 Gebo Cermex is set to launch Gebo Engineering Solutions, a new entity which promises to offer a powerful dual skill set: design engineers for the upstream conceptual stage and project managers for the roll-out phase.
Gebo Cermex has a long track record of delivering comprehensive packaging line engineering solutions around the world. The firm has developed a wealth of engineering know-how and a strong network of industry relationships. The company believes now is time to make this international expertise official, with the launch of the new business unit.
This unique approach aims to provide the best combination on the market in terms of managing all flows within and around packaging lines: facility infrastructure, utilities, process, intra- logistics, data management and industrial automation. The company is looking to boost its consulting activity significantly over the next three years, and has already created a dedicated online website to help promote its business: www.gebo-engineering.com.
Marc Aury, President & Managing Director of Gebo Cermex, said, "The packaging industry is complicated and getting more complex by the day, and our clients have to deal with the challenge of constantly developing both productivity and flexibility. In this fast-moving environment, you need advice that you can trust. That's where Gebo Engineering Solutions comes in, offering design and project management expertise that gives our customers security and robust processes in their investment projects.
"Gebo Engineering Solutions is an autonomous business unit within the Gebo Cermex organisation and is dedicated to creating value for customers in line with the company's three historic drivers, Asset Optimization, Design for CAPEX and OPEX Optimization, and Excellence in Operations. We think it's important for our clients to clearly understand the distinction between our pre-CAPEX and post-CAPEX value propositions. The idea is to make sure that when customers are considering making a major investment, we're the first people they call."