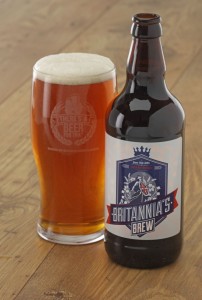 Beatson Clark has produced bottles for a special beer which has been brewed to mark the first ever Beer Day Britain.
Britannia's Brew is an unusual beer flavoured with British botanicals which has been created at Brewster's Brewery in Grantham, Lincolnshire.
Beatson Clark has supplied its lightweight 500ml amber bottles for the special limited edition beer, which is exclusively available online via Ales by Mail.
A total of 1,215 bottles of Britannia's Brew have been released to commemorate Magna Carta which was sealed by King John 800 years ago on 15th June 1215.
Clause 35 of Magna Carta stated, "Let there be throughout our kingdom a single measure for wine and a single measure for ale and a single measure for corn, namely, the London quarter."
At 12.15pm on 15th June pubs, bars, breweries, beer enthusiasts and the great British public are being encouraged to drink beer and raise a toast to the UK's favourite tipple.
"Beer remains our national drink and we should all be celebrating its heritage and the fantastic beer scene that we have in this country today," said Charlotte Taylor, Marketing Manager at Beatson Clark.
"The brewing industry is an important sector for us and we're very proud that this special limited edition beer is being sold in British bottles made by Beatson Clark."
Britannia's Brew is a golden ale made with botanicals and other ingredients that represent the constituent parts of the UK: English hops (Boadicea and Sovereign), English Maris Otter malt, dark crystal and cara malt, seaweed to represent Wales, red and white rose petals to represent the Tudor rose of England, heather for Scotland and flax seeds for Northern Ireland.
It is a bottle conditioned beer – in other words, the bottle contains live yeast – with an alcohol strength of 5% by volume and an RRP of £2.86.