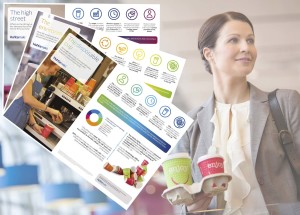 IN order to understand the use of disposable cups within beverage services found on the UK high street, Huhtamaki commissioned independent research into consumer attitudes towards takeaway hot drinks.
The research shows that 80% of the UK population purchase takeaway hot drinks, 85% of consumers want outlets to use compostable takeaway cups, and over half of consumers (57%) would pay 2% more for their drinks to be served in them. Support for UK manufacturing was also identified – 83% of consumers would prefer caterers to use disposable cups made in the UK.
Huhtamaki researched three main areas – frequency and type of purchase, the importance of the disposable cup, and environmental concerns – amongst 2,000 respondents representative of the general UK population aged 18+ years, who purchased hot drinks from independent or high street coffee shops within the couple of months prior to being questioned.
Almost a quarter of consumers buy takeaway hot drinks 'very frequently' (2-3 times a week or more), and the range of outlets from which they buy is varied – Costa is most popular (28%), but the popularity of McDonald's (13%) and Greggs (7%) shows that consumers are buying from non-traditional coffee shops too.
The type of takeaway hot drinks purchased was researched – coffee-based beverages (77%) such as cappuccino and latte were most popular – together with the size most frequently ordered – 65% of consumers buy 12oz and 16oz takeaway hot drinks.
The majority of consumers (75%) expressed an opinion as to the types of colours they find most appealing – 34% prefer earthy colours, 24% dark colours and 14% bright colours – and 63% of consumers have a preference as to the types of messaging they want to see featured. Two thirds of consumers (42%) want to see messages relating to the provenance of ingredients and the ethical sourcing of materials used to make the disposable cup.
When it comes to issues concerning the environment, two thirds of consumers (68%) are aware of the availability of biodegradable paper and 'plastic' products, and understand the concept of biodegradability. Consumers want to be told about the environmental impact of the products they are using – 89% think information about the compostability and recyclability of products should be provided.