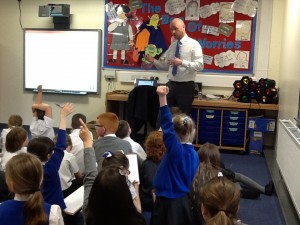 Boxshop's Head of Sales, Pat Bonar, recently held a packaging workshop for an East Kilbride primary school as part of Scottish Business in the Community's Food for Thought programme.
The programme aims to involve pupils in food related projects, which will encourage healthier eating habits, and provide a better understanding of the importance to the Scottish economy and jobs in the food and drink industry.
Pupils learn about sustainable food production by growing their own produce, cooking and gaining an appreciation of the value of locally produced food and drink. In addition, the interdisciplinary projects develop their numeracy, presentation and communication skills and encourage them to learn more about Scottish heritage.
Three classes from St Louise Primary School heard Pat talk about the supply chain operation, from the factory to the supermarket shelves. Then packaging designer Louise Reid explained to the children why good packaging is vitally important.
The pupils were able to handle the boxes made by Boxshop and see the sturdiness she was talking about. Louise also gave the children some top tips about the use of colour and ways to market their products. After that, the children fired questions to the experts, asking for advice on a range of topics including what materials to use, the best eco packaging available and how to make packaging more attractive.
Pat and Louise talked about the roles of various Boxshop employees before offering to make a box for the products the pupils came up with from the children's own designs.
Product design, team work, creativity, marketing and logistics were some of the skills developed during this exercise.
If you wish to support Food for Thought Programme (a three-way partnership between Scottish Government, Education Scotland and Scottish Business in the Community) please contact vivianmaeda@sbcscot.com