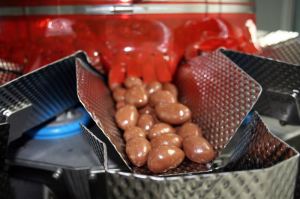 Big Bear Confectionery, a subsidiary of Raisio Group, boosted their new packaging line's production by 7000 packs per shift by investing in a multihead weigher and checkweigher from Yamato Scale Dataweigh UK.
By boosting not only their speeds, but also the operational flexibility of the line in question, Big Bear Confectionery has achieved considerable improvements in their weighing and checking of their chocolate and sugar coated products.
After identifying inefficiencies in their previous solution, as well as desiring a layout change to resolve congestion issues, Big Bear Confectionery contacted Yamato for new weighing machinery.
This undertaking marks a new level of aspirational investment by Big Bear. "It looks fantastic, and will provide an exceptional standard of packing for our clients," said Sandra Fawcett, Operations Manager at Big Bear's Blackburn site. "The new Yamato weighing and packing line is a professional and modern solution that gives us world class capabilities."
Space was at a premium and the company wanted to both expand their capabilities while also streamlining their product handling process. The decision was made to merge the two lines in to one, through the purchase of a new Yamato Multihead Weigher and end of line Yamato Checkweigher.
For portioning and feeding to the bagging machine, an Omega Multihead weigher was proposed and installed. This 14-head machine with 6L capacity, is capable of reaching speeds of up to 110 packs per minute on retail packaged Big Bear products, and 12 packs a minute on the larger 4.5kg packs.
Additionally, an end of line I Series Checkweigher was provided, with a maximum pack weight of 6kg, allowing Big Bear additional flexibility with future operations and processes. The I Series Checkweigher also features a Ceia metal detector and diverter arm.
"Yamato is proactive, and offers excellent customer service," added Sandra Fawcett. "Our engineers were keen to continue working with them as a result of years of positive experiences."
Operating across numerous sites in the UK, producing more than 1,000 products for the branded and RPL confectionery markets both in the UK and abroad, Big Bear Confectionery sells to large supermarket chains such as Tesco, Asda, Sainsbury's, Morrison's and Aldi.