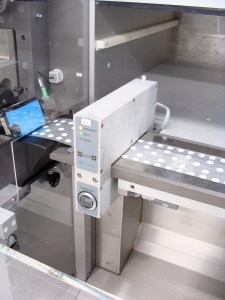 PHARMACEUTICAL product handling and coding specialist Travtec has extended its range of Lixis inspection equipment with the introduction of the Lixis MH Pinhole Detector for aluminium foil blisters.
The Lixis MH is able to detect the smallest pinholes and pores on Alu-Alu blister packs produced by cold forming, which are usually invisible to the naked eye and are not detectable by other automatic systems. This eliminates the risk of non-airtight sealing of packs to ensure and provide accurate control of the entire production run.
The pinhole detection system uses highly sensitive infrared radiation to identify holes as small as 25 microns (0.001 inch) and can inspect multiple independent areas of the foil. A Fail Safe feature stops the blister line in the event of any malfunction.
The Lixis MH's compact design means it can be easily installed on any blister machine. "We have already enjoyed success with the Lixis PVS OCR/OCV imaging system, so we are delighted to extend our range with the introduction of the MH Pinole Detector," said Travtec Group managing director Harry Thomason. "It will help manufacturers maintain high quality standards and eliminate the risk of product recalls."