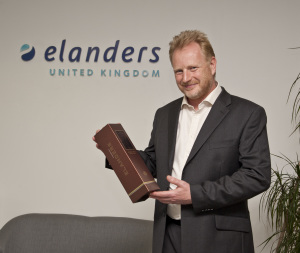 INNOVATION and new practices are on the agenda at North Tyneside print, packaging and supply chain business, Elanders UK, as a highly experienced packaging professional with 20 years in the sector joins the team.
Chris Simpson joins Elanders from some of the world's leading packaging and print companies where he was responsible for multi-million pound accounts. His role has been to assist and develop these accounts, acting as a strategic partner in order to streamline the processes clients use to run their businesses, an approach which echoes Elanders' making him the perfect fit for the newly created role.
With a background in industrial engineering and international business, Chris brings invaluable experience to Elanders as it establishes its position in the packaging market in the UK, Europe and globally. Chris' role will see him become a consultant to his clients, providing the perfect solution to fit the need from across Elanders' range of solutions including packaging, digital print, multi-channel communications platforms and offset printing.
Chris said, "In each of the different areas I've worked in it's always been about innovation, trying to do something genuinely new which helps the customer and their business. I try to understand what is currently happening and bring to it a piece of new technology or idea to build mutually beneficial relationships. I'm looking forward to working closely with the Elanders team to further build service lines and offering added value to the clients' business."
Chris Hewitt, Sales and Marketing Director at Elanders UK, added, "Innovative businesses come from the position of leadership and leadership is about finding the right people and letting them spread their wings. Chris' experience means he is able to combine an in-depth working knowledge of the sector with ambition, innovation and fresh new thinking to guide our customers to the Elanders solution tailored to their specific needs. As a business, we are entering an ambitious period of growth and have invested carefully in equipment, machinery and people to be able to align our service offering to the changing needs of our customers. Chris is the next step of this investment and will be working hard across our core business areas to optimise and develop the processes our customers see as critical to their business and develop our consultative approach to service delivery."
Elanders UK recently announced 2014 as a record year reaching a record turnover of £20million. In the past 12 months the company has continued to grow, adding new people with key skills to support its growth and diversification strategy.