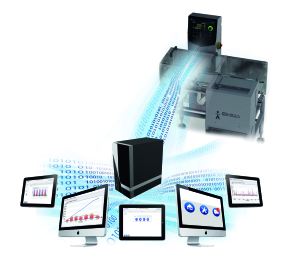 ISHIDA Europe has launched an enhanced version of its IDCS (Ishida Data Capture System) that records and analyses data from every pack that goes across an Ishida checkweigher.
The company claims its new IDCS II can typically pay for itself with only a few weeks of use.
Thanks to its simple and powerful data monitoring and analysis capabilities IDCS II helps to improve Overall Equipment Efficiency (OEE), monitor packing line performance, enhance the profitability of production lines and generally enable food packers and processors to manage their operations more efficiently.
IDCS II provides fully customisable real-time information that monitors line performance in terms of availability (how much of the available time is the production line actually running?), performance (is the line producing the expected number of packs?) and quality (how many of the packs produced fall within the required quality parameters?).
The combination of these elements provides an OEE percentage that uniquely identifies how efficient a production line is running, and IDCS II can show this value for a factory, a production line, or a particular product at any time frame, in order to identify potential areas of improvement.
IDCS II can be used to spot where a product is being wasted or given away, identify downtime reasons or quickly calculate the impact on accuracy or giveaway if line speeds are increased. Comparisons can be made between operators, different shifts or time periods, or different lines, machines or products, and the information can be tailored to specific reporting requirements.  The data can also be made available as part of wider reporting systems such as SAP and SCADA, and can play an important role in enterprise resource planning (ERP).