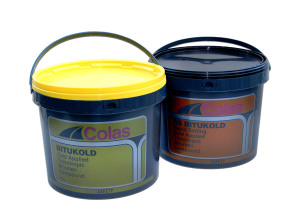 A 16 litre SuperLift container from RPC Containers Oakham, featuring a striking new design and the use of recycled material, is helping Colas Ltd both convey its premium image and underline the company's commitment to sustainability.
Colas provides sustainable solutions for the design, building and maintenance of the UK's transport infrastructure. Its Bitukold reinstatement product is used for the sealing of new vertical joints in freshly laid asphalt or macadam.
Bitukold is arguably one of the market leaders and Colas required a packaging solution that would emphasise this distinction and create the right image and positioning in the market.   At the same time, sustainability is a major part of all Colas offerings, and it was therefore important that the packaging supported this position.
RPC Oakham's SuperLift container is injection moulded in polypropylene, including 25% recycled material. The inclusion of the recycled content produces a grey finish which in itself creates on-shelf distinction and this is further enhanced by the use of metallic inks that ensure an attractive, eye-catching look. The plastic handle makes the entire pack mono material.
The re-sealable SuperLift container is also lightweight, easy to handle, waterproof and does not dent easily, all essential practical advantages for a product used outdoors.
"Bitukold is a quality product and it was important that this was reflected in its packaging," said Arthur Millington of Colas Ltd. "The combination of a high-impact design and recycled material, along with the proven practical benefits of the SuperLift range, ideally demonstrate our professionalism and leadership."