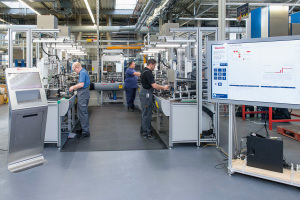 BOSCH REXROTH has been recognised as a pioneer in the practical implementation of the Internet of Things (IoT) by receiving an Industry 4.0 award.
A new assembly line at Bosch Rexroth AG in Homburg/Saar, Germany was judged by an independent panel to be the best implementation of Industry 4.0 currently in production. The prize was awarded by trade journal Produktion, in collaboration with ROI Management Consulting AG.
Hans-Georg Scheibe, Director of ROI Management Consulting AG, said, "The solution implemented by Bosch Rexroth is exemplary of the potential of Industry 4.0. The holistic and cost-efficient implementation has led to significant improvements in productivity and serves as a model for other companies."
The award winning assembly line utilises over 200 different hydraulic valves, all of which are assembled into a single value stream. In addition, nine intelligent stations sit along the assembly line, identifying how the finished product is to be manufactured and which operational stages are required.
Lance Croutear, Business Unit Manager Factory Automation at Bosch Rexroth, said, "We have reaped the benefits of increased efficiencies and productivity levels since implementing Industry 4.0 within our Homburg facility. We are now in the process of working with other manufacturers who are striving to produce smarter factories which are more resource efficient, more productive and more competitive in a globalised economy."