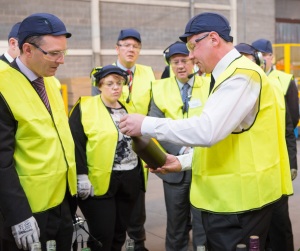 One of the most eye-catching features of last year's €30 million investment at O-I in Alloa was the installation of new glass decoration capability. Decorating glass bottles is one way in which the industry offers its customers a more flexible and premium product to further define their brands. Packaging Scotland asked Kevin Donohue, decoration manager at O-I Alloa, to explain the rationale behind the move.
Q. Why is O-I developing its decoration capabilities at Alloa? 
A. The keystone of O-I's investment is to offer the spirits industry an integrated facility which can design, produce and decorate the glass packaging through which they communicate their brand personalities to customers around the world. O-I has been decorating glass in Scotland for over 20 years and we are responding to changing customer needs.
Q. What trends in the Scottish drinks industry have prompted this?
A. The Scotch whisky industry continues to segment its brands and develop more premium variants. This creates a need for more glass packaging options to cater for each niche product. As a result, we have seen a rising demand for innovative glass decoration capabilities.
Q. What specific changes has O-I made in response to these demands?
A. At the heart of the operation is a brand new fully automatic and CNC-controlled Kammann K15 CNC M12 High Speed Silk Screen printer, one of the most advanced glass bottle printers available in the world and the first of its kind to be installed at a UK glass plant. Brand designers have been pushing the boundaries of silk-screen printing with ever more complex designs for decorated bottles and this machine was designed to meet these innovative developments. This gives O-I the flexibility and accuracy to print almost any shape of glassware – round, oval, square, flat and handled, around corners – to the highest quality.
The accuracy of the printer means that O-I can now print highly complex designs which would previously have been decorated using the much slower hand-applied transfer technique. This improves customers' speed to market. O-I's experience with Kammann and the technology of the new printer has also seen changeover times reduce, meaning new products can get into production faster than ever before.
Q. Is decoration the only response you are making to changes in customer requirements?
A. O-I's investments strengthen the capabilities of the entire plant. Today's drinks industry requires flexibility so we are improving speed to market through faster and more responsive design, prototyping and short run production. The desire for premiumisation and brand differentiation which has driven the investment in decoration has also led O-I to increase the range of premium colours it offers. Alloa now produces blue, black and extra flint as well as the usual three colours of green, amber and white flint. Since last year, we have seen strong growth in demand for black in particular.
Q. What more investments are there to come at Alloa? 
A. In the decoration facility, we will be upgrading the flexibility, speed and capacity of our glass coating capabilities.
Coating is generating increased interest from customers looking at options like half and multi coloured coated containers and for non-round items as advances in machine technology allows for accurate production.