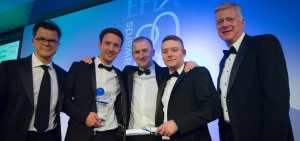 TRM has been awarded the most prestigious accolade for print quality in the packaging industry.
The company won the prizes for best in class for 'Corrugated Post-Print: Coated Line and Screen' and ultimate prize, 'Best in Show', at the 2015 European Flexographic Industry Association's (EFIA) print awards.
The annual awards, run by the EFIA trade association, are the most highly sought after for the packaging industry and a showcase for the finest printing services the sector has to offer. 
TRM CEO, Trevor Maund, said, "We're overjoyed with the result – the wins are a real testament to the strengths, capabilities and expertise of TRM."
Judges at the EFIA event said that TRM submitted an outstanding entry that showcased the print quality that can be achieved with the right application of design and manufacturing knowledge.  
"The Border Biscuit pack is a real showstopper and a perfect representation of what TRM as a business has to offer – appropriate high quality design, industry leading print and exceptional market insight combined with incomparable expertise in our field."
TRM was up against some of the biggest players in the industry and won the hotly contested awards for a high quality printed pack which it manufactures and prints for leading snacks company, Border Biscuits.