New training base for SIG Combibloc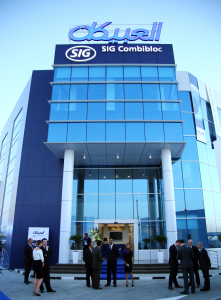 SIG Combibloc Obeikan, a joint venture of SIG Combibloc and the Obeikan Investment Group, has opened a new headquarters in Dubai Silicon Oasis (United Arab Emirates). Under a single roof, there are now three floors of offices for regional support functions, a knowledge academy and a training centre to facilitate cooperation and for training the company's own employees and employees of customers in the Middle East, Africa and Turkey.
The new building has a total area of around 4,150 square metres. The ultra-modern training centre and the knowledge academy are both devoted to training and development. For this purpose, experts from SIG Combibloc and SIG Combibloc Obeikan work in close cooperation with noted consultancies to create bespoke training programmes. This means that, after Brazil, Germany, Thailand and China, SIG Combibloc's fifth training centre has now started operations at the Dubai site; and it is also the Obeikan Investment Group's second knowledge academy in the region – in addition to the academy in Riyadh.
All under one roof
Chris Alt, COO of SIG Combibloc Obeikan, said, "The opening of our new regional headquarters along with the unveiling of the knowledge academy and training center at Dubai Silicon Oasis marks the culmination of over 10 years in the region and demonstrates our commitment to providing excellent services and support to our esteemed customers in MEA. Through our new headquarters, we aim to offer tailored training solutions for our customers and consolidate all our regional functions – two essential requirements as we expand our business and services to meet the demands of our customers and the growing number of employees in the region."