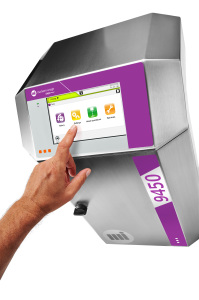 A new continuous inkjet coder is set to help food and beverage manafacturers control production line costs more effectively according to coding and marking specialist, Markem-Imaje.
Part of the 9400 Series, the 9450 will help manufacturers improve traceability and prevent product recalls using its Mark & Read real-time vision system which checks code integrity.
It also offers a substantial choice of codes including barcodes, Datamatrix and QR codes as well as the ability to print logos and alphanumeric texts.
Martin Bailey, UK operations manager at Markem Imaje said, "Traceability sits very high on the agenda for food and beverage businesses and coding and labelling equipment fulfills a vital role in achieving it."
The 9450 coding solution also includes an option for printing unique promotional codes that can be used to support marketing campaigns. 
Martin added, "Better and clearer codes are just the start for the 9450. The ability to easily integrate promotional coding into the packing line is a real bonus for food and beverage businesses. Promotional coding provides something that on-pack promotions, which have no link to purchase, cannot do. Giving consumers a unique code to make their claim also provides brands with the sort of detailed marketing data that price cutting promotions never can."
The 9450 is designed specifically to lower the total cost of ownership and can achieve up to 20% reduction on consumable and energy consumption when compared to similar coding solutions on the market.
A large selection of high adhesion, high contrast and coloured inks can be used by the printer for optimum legibility on products.
Inks with "tracers" which provide an anti-counterfeiting measure and environmentally-friendly inks are also available and it is possible to change inks without interrupting production runs, cutting downtime and improving Overall Equipment Effectiveness (OEE).