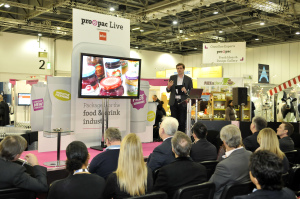 BENJAMIN Punchard, Global Packaging Insights Manager at Mintel, the world's leading market intelligence agency, will be unveiling some of the latest data on consumers' attitudes to packaging during his presentation at Pro2Pac Live, the free seminar program at Pro2Pac – the UK's only food & drink packaging event.
Mr Punchard will draw from extensive data derived from Mintel Reports to discuss how UK consumers are approaching everything from recycling and the environment to provenance and clearer labelling.
Mintel's research reveals that food waste is still not high on the agenda for people when they do their food shopping with only 26% of women and a fifth of men buying smaller packs to avoid wasting food. This is in complete contrast with the 60% of UK consumers who agree that not liking waste is why they undertake environmentally responsible activities suggesting that respondents are yet to align food waste problems with environmentalism.
Corby Ganesh, Event Director for the Pro2Pac show, said, "The Pro2Pac Live thought leadership program is a great platform for everyone involved in the packaging and food and drink supply chain to gain invaluable insight.
"The research that Benjamin will be presenting at the event has thrown up some fascinating results. Having contributions from the likes of Mintel really bolsters the line-up – the organisation's research offers peerless insight into consumer thinking for brands and packaging manufacturers."
As a preview of the presentation, Pro2Pac and Mintel have created an infographic showing some of the research data that will be offered at the event: www.pro2pac.co.uk/Mintel
 Mr Punchard will be speaking on the first day of the Pro2Pac Live program, on 23 March, which runs for three days and features thought leaders from across the packaging and food and drink industry.
The schedule will also include a wide range of case studies, panel debates and seminars from the likes of Erik Smyth, founder of Insignia Technologies and Paul Earnshaw, Packaging Manager at Tesco.