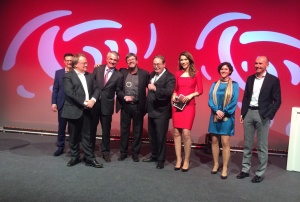 CLONDALKIN Flexible Packaging Harlingen recently won the 2015 award for Innovation at the prestigious DFTA awards in Stuttgart.
The annual awards ceremony recognises outstanding print quality, performance and innovation and the awards are considered among the most coveted international honours within the industry.
The German Flexography Association, the DFTA, has one of the largest memberships of any association within the Flexographic printing sector.
Clondalkin Flexible Packaging Harlingen (CFP Harlingen) is part of the Clondalkin Group of companies, which produces innovative packaging solutions for brands throughout the world.
CFP Harlingen won the award for its unique FleXtreme printing technology, used to create the eye-catching bag for the Bofrost "Frühlingsrolle Chicken Curry" brand.
Jack van der Heiden, Sales and Marketing Manager for CFP Harlingen, said, "We are delighted to have won this award in recognition of the excellent results we achieved for our client, Bofrost.   FleXtreme represents a new generation in flexo printing that offers print quality comparable with gravure printing.
"Working in partnership with printing plate manfacturers, Team WKA (Warburger Kliché Anstalt), we produced and printed the packaging using only CMYK and an overall laquer to achieve a high intensity of colour and excellent quality finish.  We achieved this using Sun Passion ink, minimum 54 dpcm screening and 460 line annylox rollers.
"We would like to thank Bofrost for their courage in allowing us to demonstrate this revolutionary Flexo technology and they are equally delighted with the results."
CFP Harlingen faced competition from another six finalists to win the award.  The judges praised the team's "Co-operation and craftsmenship to achieve outstanding results, where less is definitely more."