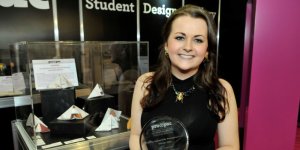 Pro2Pac 2015 has announced the return of its hugely successful Student Packaging Design Challenge.
Pro2Pac is challenging design students from Leeds Beckett University to design a package specifically to deal with the challenges of internet shopping and home delivery.
By 2018, internet sales are predicted to grow in the UK from £37.2bn to £57.6bn – a staggering increase of £20bn in the UK alone. Grocery is going to be a key sector to drive that growth.
Entrants are being asked to design a revolutionary concept for a new product that satisfies a range of criteria and will be judged on packaging design, form, functionality and cost as well as what the benefits are to the customer and how these will be marketed.
Corby Ganesh, event director at Fresh Montgomery, said, "The award gives students hands-on experience working in packaging design and gives the food and drink industry a glimpse of what the future may hold for emerging talent."
"The outstanding prizes come from some of the biggest names in the sector – testament to the industry's commitment to developing talent in order to foster innovation and progression."
The winner will be announced during Pro2Pac and will receive a £500 cash prize and a Hudl Tablet courtesy of Tesco plus a work experience placement at WowMe Brand and Packaging Design with expenses. The overall winner will also have the opportunity to pitch their winning concept to a Senior Tesco Director.
Four runners-up will receive a Hudl Tablet and along with the winning design, will be on display at Pro2Pac.
Students will have until 27th February to submit their entries, which will be judged by a panel of industry experts.
Pro2Pac is the UK's only dedicated packaging show for the food and drink industry and runs alongside IFE and the inaugural Waste-Works. Collectively the events will cover the full food & drink supply chain, from 'Farm to Fork to Fertiliser and Fuel', and bring together key decision makers from the entire food and drink industry to offer unbeatable business and networking opportunities.
Registration for the Pro2Pac event is now open at www.Pro2Pac.co.uk.