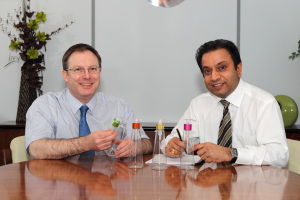 Innovative packaging provider Global One-Pak (GOP) has revealed that 2014 was the most successful in the company's 12 year history, with a massive 25% increase in sales right across its range of trigger sprayers, lotion pumps, disc top caps and mist sprayers for the household and personal care market.
Despite 2014 being dominated by a competitive period for the packaging industry reflected by ongoing supermarket price wars, GOP has continued on a steady growth plan and demand for its products have increased organically thanks to the company's commitment to offering high levels of customer service, cost-effective solutions and exceptional product quality.
Clive Broadbent, managing director at GOP said, "We're delighted with the success we've enjoyed over the past year and the phenomenal sales figures that we have achieved. 2014 presented challenging conditions within the retail packaging marketplace but by remaining close to our values of offering exceptional customer service combined with commitment to supporting our customers' needs first and foremost, we have been able to retain and grow our customer base to achieve these fantastic results.
"We're very pleased to see that customers continue to value the high level of service that we're able to offer. Our attention to detail and ability to holding back up stocks for customers as well as strictly managing lead times has ensured that our customers keep products where they want them – on the retail shelves."
 GOP's service offering extends right across the UK as well as a number of European countries including the Netherlands, Italy and Germany and also has a growing business in the USA.