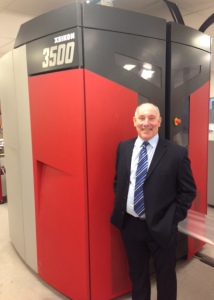 CS LABELS recently announced the appointment of new Sales Manager Mark Budz, as the labels and packaging firm progresses further with their ongoing growth plan.
Budz, who has worked in the print and packaging industry for 18 years, has held senior Business Development roles with various leading label companies in the UK.
As Sales Manager, Budz new role will entail client and prospect care of CS Labels' market sectors, ranging from FMCG blue chip companies, chemical manufacturers and the automotive industry through to artisan food and drink brands.
Having grown extensively over the last few years, the appointment of Budz marks a 33% increase in employees in just under two years.
Budz's appointment follows that of Duncan Sparrow and is in advance of a major product development and expansion announcement to be made on 24th February 2015, the day before the Packaging Innovations Exhibition begins.
CS Labels' Managing Director, Simon Smith, redeveloped the company to focus on digital print in 2008, and bases his success on recruiting creative and productive thinkers who have often worked outside of the printing industry.
Simon said,"I am delighted to welcome Mark on board. He is highly experienced in the labels and packaging sector and has that dynamic edge which is exactly what I was looking for. He has already commented on how different CS Labels are to their peers and I look forward to his input and impact during this next period of exciting change."
Regarding his new appointment, Budz added, "Digital print has attracted me for a number of years and I now look forward the luxury of working for a company that are not only entirely digital, but the best in their class. CS Labels are thought leaders and their opinions and actions are powerful.  When they speak, the industry listens. And it's not just the machinery and technology. The people here, from the graphics department to the shop floor are genuinely excited about creating the products and being a part of the ongoing positive change. I'm genuinely pleased to be a part of that."