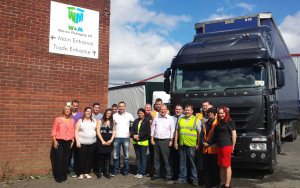 W&M Watson Packaging Ltd (WMW), one of Scotland's long standing leaders in the new and used cardboard industry, has formally announced the successful acquisition of local polythene product distributor Peter Bryson Packaging (Scotland) Ltd (PBP).
While both companies have been working side by side for the past 12 months, WMW held off on the announcement until both companies were comfortably integrated as one unit.
The original Watson warehouse in Glasgow has now doubled in size, providing a storage facility in excess of 100k square foot in Glasgow. The venue can comfortably accommodate PBP machinery and it's experienced staff and takes the group's total number of staff up to 49 people. The investment in staffing is seen as a key element in the company's drive to further improve customer service levels.
'We see this as part of a bigger strategy to grow our market share in Scotland while consolidating (and thus strengthening) the market', says Chris Kelly, Managing Director of W&M Watson Packaging Ltd.