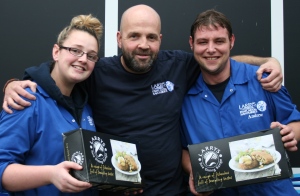 NORTH East businesses are stronger when working together. That's the message from the UK's oldest independent fishcake manufacturer, Larry's Fishcakes, who have joined forces with Washington's Encore Packaging Solutions to securely distribute premium fishcakes from its factory in North Shields. 
All elements of Larry's Fishcakes are "Geordie" sourced where possible, from the fish caught on North Shields' Fish Quay, to the herbs mixed through the fishcakes and patties, supporting and championing local produce. By using local services wherever possible, Larry's has helped to create a vibrant business community of trades who support one another, and now Encore has been commissioned to manufacture around 10,000 boxes per month which ensure the fishcakes reach their destination intact. 
Four generations of the Cranson family have worked in the Larry's Fishcake factory in North Shields since 1960, taking the business from just two members of staff to 10. Now managed by Craig Foster, Larry's Grandson, the famous fishcakes and savoury patties are loved across the nation, distributing over 4,800,000 products to fish and chip restaurants and independent caterers across the UK. 
Craig considers the company's Northern base to be the secret to the company's nation-wide success and backs the local area economically through employment. "Local business networks are the glue that binds entrepreneurs to each other. This is where they help each other's businesses, create solutions to local challenges and inspire each other to think differently."
Russell Croisdale is managing director of Encore Packaging Solutions. He added, "Fishcakes, by their nature, are delicate and easily damaged in transit – we have been working closely with Craig to develop a solution to his packaging needs ensuring his product remain in premium condition throughout their journey to the customer.  When local, independently-owned businesses work together they create solutions to local challenges and our working relationship with Larry's Fishcakes is testament to its success."