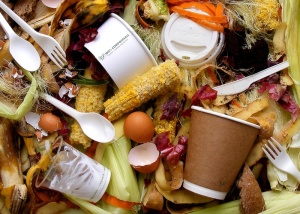 INSPIRED by a simple cornstarch spoon, Joe Frankel is now the Managing Director of the fourth fastest growing firm in Scotland. The founder of Vegware, the UK's first and only completely compostable food packaging company, Joe invested his life savings in 2006 to create the Edinburgh based firm. With a background in academia, Joe, the son of a medical anthropologist and classically trained ballerina, moved into entrepreneurship following his University secondment in America.
Having now won over 50 awards for sustainability and business, Vegware work with classic food packaging designs from a recycling perspective.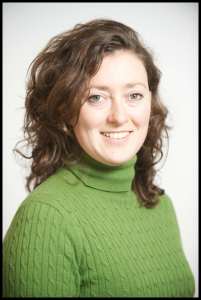 "Essentially we're a manufacturer and distributor. It might sound a bit grand but we also see ourselves as a visionary brand. We are the only solution to zero waste in food service. We're doing something very different and we're unlocking potential for recycling after use", said Vegware's Communications Director and Joe's sister, Lucy Frankel.
"The first moment of inspiration came when Joe was in California during his secondment at the International Computer Science Institute in Berkeley. Joe's wife came back from the farmers' market with a spoon used for tasting yoghurt and Joe was just blown away it. It had this very interesting texture that reminded him of the bone spoons our Granny had. After that Joe went about tracing where this spoon had come from, and when he sourced the supplier he invested all his savings in the bioplastic resin from which it was made."
With customers ranging from contract caterers to the UK's largest non-food retailer, Vegware has established a regional, national and international presence. Providing cups, lids, trays, containers, tableware, cutlery and more, Vegware's products are all eco-friendly and certified compostable.
"You'll see our packaging everywhere, from schools and universities to festivals and artisan coffee houses", Lucy added.
Winning the Queen's Award for Enterprise in Sustainable Development in 2013, Vegware has been featured in Deloitte's Fast 50 in 2013 and 2014.
"This is our second year running in the Deloitte Fast 50 with a rate of growth over the past five years of 919%. Change is normal here; change is our everyday reality. We joke about having a Vegware passport with stamps for the team with the amount of desk reshuffling we do."
And Lucy Frankel doesn't believe Vegware could have achieved this growth without their Edinburgh backdrop.
"Edinburgh is a definite part of our success. We're a UK company and we're international, but in terms of the brain and the heart, it's here. It's the people really. I don't think we'd have the crazy growth figures if it wasn't for the team. There are a lot of sparky people in the city who want to stay here. We're going to Dubai in February for the Gulfood exhibition and it's amazing to have the support from SDI and be a part of brand Scotland.
Another really good aspect of being a Scottish company is being part of the Scottish waste journey. Because we're based here and the Waste Regulations support what we do, we have this huge body of knowledge to help people go zero waste and save money doing it. As an international company it's been incredibly useful to have such practical knowledge that we can apply to the rest of the world."
With an industry shift towards sustainable food packaging, Vegware is finding that as competition increases, their awards are not only great for staff morale, but provide a valuable seal of approval also.
"We've actually seen so many companies copying our ideas recently. We've got to see that as flattery but it does mean we have to do it even better than before. We've specialised in one particular area, we are the geeks, but we're always looking to progress.
Clients can see that we've won over 50 awards and that's the kind of trust that we're constantly working to build. We don't want to just claim things. We've invested in certification; we want to demonstrate it's all backed up. Yes we're sustainable, but we mean business."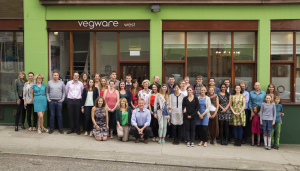 Although Vegware pride themselves on their business acumen, the company has also developed a Community Fund project to give back to the communities around them. Providing monthly grants and free products to local and international organisations and non-profit groups, the company asks for monthly updates and photos in return.
Constantly working to develop new products and complete their existing ranges, Vegware enjoy taking risks:
"What we really value most is our ability to get on with stuff. We really enjoy what we do. It's the joy of having an idea, working on it and then seeing it happen. We bring tens of new products to market every year, and we like taking risks. If there's a product that isn't necessarily volume sale but completes the range, we'll make it. We'll invest for the pride of being the people that have the complete range. Quite often people will say, "why doesn't this thing exist?" and then we'll just make it.
But we do get frustrated by companies that have a green option just to look good and open doors and then sell people polystyrene. I just find it frustrating that essentially the same old, same old is being sold to people."
With a new gourmet range available – the market's first eco spill-proof window box for hot and cold food to go – Vegware is also set to release a new deli range in February as well as working on their existing products.
"We've got all sorts on the go. We're always tinkering, always completing the range."