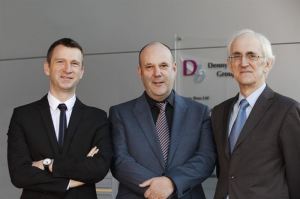 DENNY Bros has appointed Graham Denny as its new Managing Director to lead the future growth of the company.
The family-owned international specialist printing business and creator of Fix-a-Form® multi-page labels has announced changes to its Board of Directors.  Barry Denny, who has been the Managing Director of Denny Bros since the business became a limited company in 1983, now becomes Chairman. 
Speaking about the changes, Barry Denny said, "I am pleased to announce that Graham will be taking over the baton as Managing Director and new figurehead of the business fulfilling most of the duties that I have previously handled.  This change heralds a new era for the business which continues to help brand owners to smooth their way through packaging changes affecting general, food, pharmaceutical and other specialist labelling."
Andrew Denny, Managing Director of sister company Fix-a-Form International, will also be playing a part in the management of Denny Bros in his new role as Strategic Development Director for Denny Bros. Stephen Jarrold and Colin Hunt will continue in their sales, marketing and production roles. Graham Denny, previously Commercial Development Director for the company for over 20 years, said, "I am delighted to take over the mantle of Managing Director of this award-winning family business. Denny Bros is constantly changing and growing. One of the biggest game changers for us is the introduction of new mandatory rules and regulations regarding labelling. Our customers rely on us to help them with compliance and with brand competition. mWe are creative and marketing experts too, delivering brand allegiance and sales uplift to campaigns. Specialist labelling is still evolving. It is becoming clearer, more concise and easier to read, a move that will be welcomed by consumers everywhere.
'We are proud of what we have achieved in our 70 year printing history and look forward to an all-action anniversary year  this year, celebrating the very best of print technology and Fix-a-Form®."