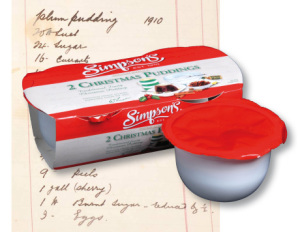 RPC Bebo UK has supplied the plastic pots for Simpson's of Manchester's Christmas Puddings, being sold exclusively through Spar supermarkets for the 2014 season.
Still a family-run business, Simpson's produces a wide range of own-brand and private label food products. The company's Christmas pudding is inspired by the original recipe from 1910, the year the business was established.
RPC Bebo UK is supplying microwaveable white 89mm diameter 140ml thermoformed polypropylene pots. They are being sold in a two-pack format, with an attractive cardboard outer sleeve in traditional Christmas red and green colours.
"The new pots look great and have really helped the product to achieve stand out on-shelf, as well as complementing the core Simpson's pot sponge range," said Simpson's Foods Managing Director, Mathew Simpson. "We have been delighted with RPC's contribution to this project, which has helped us to achieve a very successful launch for this new range."