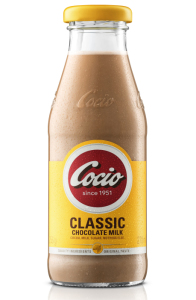 LEEDS-based dairy company Arla Foods has launched Danish chocolate milk drink Cocio into the UK.
Cocio is made to a unique recipe containing just three ingredients – milk, cocoa and sugar. It will be available in Asda, Morrisons, Sainsbury Local and Waitrose valued at £1.39.
Cocio has been produced in Denmark since 1951, where it enjoys a dedicated following from it's passionate fans. Anker Pallesen, a Danish citizen, founded Cocio in the Jutlandian city of Esbjerg. Over the years, exports grew across Scandinavia and in 2001, a new and modern factory was built to accommodate up to 400,000 Cocio bottles leaving the production lines every day. Recent research in Denmark reveals that Cocio has a 100% recall on aided awareness amongst its target audience. Arla Foods acquired Cocio in 2008.
The Cocio launch is part of Arla's ongoing commitment in adding value to the dairy drinks category. The Cocio launch will be supported with a £2 million marketing spend in 2014, which aims to drive awareness for the brand in a relevant and engaging way through creating meaningful relationships with its target audience.
The core target for Cocio is 20 to 25-year-old males and females who like to have spontaneous and uncompromised enjoyment. They like to try and create new experiences with their social group through making more of every day moments. Specifically, they are independent, stylish and fun and look for brands that understand them and reflect their own values and mind set.
Gareth Turner, Senior Brand Manager for dairy drinks at Arla, said, "We are delighted to be launching Cocio into the UK. Cocio has a fantastic heritage in Denmark as a premium chocolate milk drink ideal for adults, due to its great taste and quality ingredients, which we believe is a real opportunity for the UK market.
"The light and refreshing taste of Cocio makes it suitable for a range of occasions not currently being met by our existing portfolio at Arla. There is also white space within the category at present, with most products being too indulgent or for childish, so not suitable for every day enjoyment. We believe that dairy drinks has the opportunity to meet a wider set of needs and break current category norms through introducing truly incremental NPD and mapping our range portfolio accordingly."
The product joins the existing Arla dairy flavoured drinks portfolio, which already includes Starbucks (a selection of ready to drink chilled coffee products produced under license), GULP (a range of three thick shakes for kids that will be sold initially through ASDA) and Wing-Co (a protein enhanced milk chocolate drink aimed at men).