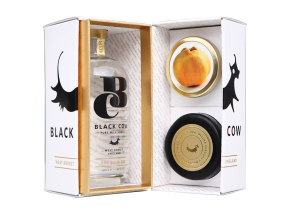 BLACK Cow Vodka makers of the world's only pure vodka, made solely from the milk of grass grazed cows, has turned to Smurfit Kappa to develop a premium gift pack for their rare West Country tipple.
The Luxury Gift pack contains a 50cl bottle of Black Cow, a black waxed truckle of Black Cow's highly acclaimed de luxe cheddar made from the same milk and accompanied by some delicious Dorset Quince Jelly.
Launched in 2012 Black Cow Vodka has earned a reputation as the connoisseur's choice, renowned for its purity, smoothness and creamy texture. It is available in a wide range of fine wine outlets, including branches of Selfridges, Fortnum & Mason and online retailer Laithwaites.
Jason Barber, the West Dorset dairy farmer, who delivered Black Cow Vodka explains how important the right gift packaging is for the Black Cow brand: "The packaging has to be an extension of the story and the brand guidelines which are a core part of Black Cow's identity. We wanted a piece of packaging that was simple, innovative and created a fun reveal for our products.
"The materials that were chosen, namely the gold blocking and the tactile finish give a premium feel and appearance that reflect the very high-quality nature of our product. The combination of a unique tie-in between food, alcohol and farming is a luxury gift box featuring a soft-touch feel matching the smoothness of the vodka, finished by gold foil decoration topped with a gloss varnish reflecting the award-winning quality of the cheddar cheese. The luxury gift pack is designed to transport the liquor firmly and safely but with a light touch to ensure the freshness and purity of the ripe cheese."
Patrick Sweeney, general manager Smurfit Kappa Barnstaple, responsible for overseeing the design and specification of the display pack added: "We are often approached by brand owners wishing to extend their franchise. However, this is the first time that we have been asked to package such a unique mix of innovation and tradition. It is immediately apparent that Black Cow Vodka is a labour of love for the Black Cow team so creating a pack that can be used as a high-quality display item as well as a practical transit unit was the top of our priorities.
"Smurfit Kappa has a reputation for innovation in packaging and works closely with retailers to understand their logistical and display needs, so we were knowledgeably placed to advise Black Cow Vodka on the practical as well as aesthetical requirements for this type of packaging. The pack has been extremely well received by the retail trade, and we believe that the opportunity to match food with alcohol is a trend that many other artisans and commercial manufacturers will be moving towards in the future. Smurfit Kappa is pleased to be able to offer its knowledge and advice and to work with fledgling and start-up brands like Black Cow to help them establish themselves in crowded marketplaces."