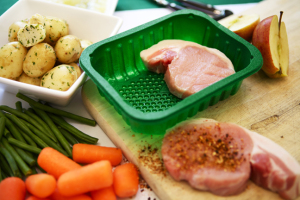 HOLFELD Plastics have been showered with acclaim – a direct result of their continuous inspirational and innovative packaging design and materials technology.
It's been a striking year for rPETeCO, the lightweight, low carbon material with three major awards under its belt and three Highly Commended placings. They have now been named a WorldStar Winner in the Food Packaging Category amongst some 69 global contenders.
Holfeld uses 20% less plastic bottles to blend their rPETeCO material – only 8 out of 10 waste plastic bottles used. rPETeCO is a multi market robust tactile lightweight low carbon material. Each bottle weighs an average of 20gms or approx 50,000 bottles to the tonne.
During 2013 Holfeld used 439,000 less waste plastic bottles to produce rPETeCO than they would have done had they used rigid PET. The material has a non plastic appearance where added value is required. Holsorb in the base eliminates the need for a soak pad.
Judging took place in November when representatives from 17 packaging associations, members of the World Packaging Organisation  (WPO) judged 265 packaging projects from 37 countries. In the Food category some 36 out of 64 entries were selected as winners against multi disciplinary and functional criteria.