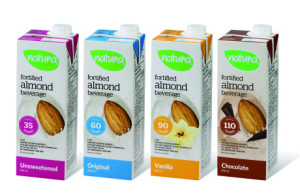 THEY are among the fastest-growing beverage segments world-wide: plant-based beverages as alternatives to dairy products.
And soy is no longer the main driver of this growth. Innovative beverages made from nuts, grains, seeds and from ancient grain varieties such as quinoa, buckwheat and millet are more in demand than ever. In addition, vegetable protein beverages made from coconuts and pulses are also finding a ready market with consumers. It is estimated that in 2013 alone, more than 1,000 new plant-based dairy alternative products came onto the market – around twice as many as five years ago.
The reasons for this growth in the segment are many and varied. Lactose intolerance is one of the drivers. In addition, more and more consumers are making a conscious effort to eat healthily. For this reason, they pay close attention to the foods they consume. The ingredients analysis of the food plays just as much of a role as its provenence, cultivation and processing. Plant-based dairy alternatives are naturally lactose-free and are generally considered to be lower in cholesterol and fat than milk from animals. But they usually offer a similar protein, mineral and vitamin content. From a health viewpoint, plant-based dairy alternatives are often more easily digested than dairy products – this also applies for people who do not suffer from lactose intolerance.
Matthias Krusche, Global Market Segment Manager at SIG Combibloc, said, "More and more consumers are experiencing sensitivity reactions to particular foods, and so are paying closer attention to what they eat. More than a third of all consumers now specifically avoid products due to allergies or intolerance problems. For many consumers who, due to issues such as lactose intolerance, have to avoid animal-origin products, or who choose to give up these products for other reasons, these days soy no longer has to be the first choice as an alternative. Some consumers even develop allergies and intolerance problems with soy. Almond milk, on the other hand, is one of the products seeing very dynamic growth. And coconut, rice and oat drinks are also high on consumers' popularity scale".
The trend for consuming plant-based beverages as a protein source has its roots in Asia. Cows have never been very prevalent in the history of Asian civilisation. Consequently, the number of people who suffer from lactose intolerance is higher than in western countries.
The production and consumption of dairy substitutes is therefore traditionally higher in Asia than in the west. However, in western countries too a turnaround is now becoming noticeable, in terms of the consumption of milk and milk alternatives. Matthias Krusche added, "Until just a few years ago, most market launches of plant-based dairy alternatives were appearing on retail shelves in Asia, but now it's the USA, Brazil, South Africa and European countries such as the UK, Belgium and Spain where growth rates have jumped substantially, and where there is still further potential in the future. Surveys conducted by various market research institutes suggest that up to 2018, world-wide growth in the plant-based dairy alternatives market will be in excess of 15 per cent per annum."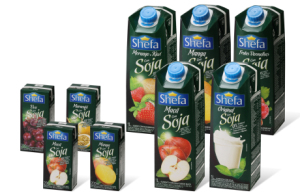 No lactose, little fat
Beverages made from soy continue to be popular as dairy alternatives, even though they are no longer the main drivers of growth in the segment. To make soy milk, soy beans are shelled, soaked and ground with hot water. Soy milk has a high protein and vitamin content, comparable to that of cow's milk. 100 ml of a soy drink delivers around 3 grammes of protein; cow's milk has around 3.2 grammes. But soy milk is much lower in fat, and thus also lower in calories, than cow's milk, and is free from cholesterol and gluten.
It is almond milk that accounts for much of the global growth in the plant-based dairy alternatives market. To make almond milk, toasted and ground almonds are mixed with water. Almond milk is low in fat and sugar, and so has few calories – about 20 per 100 ml. But at 0.5 grammes per 100 ml, the protein content is comparatively low. Just like soy drinks, almond milk is also cholesterol- and gluten-free.
Coconut milk too has plenty of potential in the area of non-dairy protein sources. Depending on manufacturer, these beverages, made from finely ground coconut flesh and water, have up to 2 grammes of protein per 100 ml. These products are also cholesterol-free and have little sugar and fat, and they are well-received by consumers particularly thanks to their creamy texture.
Dairy alternatives made from grains or seeds such as rice, oats, hemp or quinoa look similar to cow's milk, but have a lower protein content and a higher carbohydrate and fibre content. Beverages made from grains and seeds also contain no lactose and are low in fat.
Rice drinks are popular because of their creaminess. They have the highest sugar content among the plant-based dairy alternatives. To make the beverages, rice is ground, boiled in water and mashed. After sieving and filtering, safflower or sunflower oil is added to the filtrate, which emulsifies it and refines the taste. The rice itself is virtually fat-free. The protein content in rice drinks is 0.1 grammes per 100 ml, so it is low compared to other plant-based dairy alternatives.
To make oat drinks, which are climbing up the popularity scale with consumers, dehusked oats are coarsely ground, added to water and boiled. The liquid is fermented for several hours, then sieved and filtered. In this case too, the filtrate is emulsified with sunflower or rapeseed oil, to give it the white colour characteristic of milk. An oat drink delivers around one per cent protein per 100 ml, and an equivalent quantity of beta-glucane. This is a substance which helps lower the cholesterol level in the human body.
Less water, a plus for the environment
The popularity of plant-based beverages is given a further boost by consumers' growing environmental awareness. According to manufacturer's information, producing one litre of soy, almond or coconut milk, filled in a carton pack, requires around 70 per cent less water than is needed to produce the same quantity of cow's milk.
Carton packs have established themselves as a particularly apt packaging solution for plant-based beverages because they fit with the philosophy of most food manufacturers, for whom naturalness and the responsible use of resources are important issues. Carton packs ensure the products are optimally protected. In addition, carton packs are composed up to around 75 per cent of pulp fibres obtained from wood, a renewable resource. Matthias Krusche explained, "When selecting materials, we at SIG Combibloc pay particular attention to careful use of resources. We therefore work only with suppliers of raw paperboard who can verify that the wood they use to manufacture their paperboard is obtained from responsibly managed forests and other controlled sources. Compared to other packaging solutions for long-life beverages, our carton packs have been proven to have the smallest CO2 footprint, and they're guaranteed free from Bisphenol A. Once the carton pack's been emptied, all the components can be recycled."