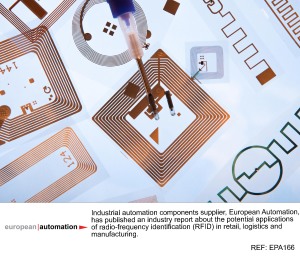 An in-depth analysis of the technology, the report looks at how RFID can be used in sectors including retail, logistics and manufacturing. The report is available for download on European Automation's website, 
www.euautomation.com/en/automated
, in the Special reports section. 
Traditionally, RFID tags have been used in retail and logistics for asset tracking. Nicknamed 'bar codes on steroids', RFID tags can be scanned automatically, without needing a direct line of sight to the reader. RFID tags hold basic information about a specific physical object, like an individual product, a palette or shipping container.
European Automation's industry report suggests that RFID has started being used in more complex applications, including warehouse management and resource planning systems, to help reduce costs and streamline processes.
"Manufacturing and industrial automation are two sectors that haven't yet become mass market users of RFID technology in production," explained Darren Halford, group sales manager of European Automation. "The technology that would allow manufacturers to implement RFID systems on their production lines already exists, but until hurdles like standardisation and security are addressed and resolved, widespread adoption of the technology is unlikely to happen outside logistics, stock and warehousing. Unfortunately, this means manufacturers everywhere are missing out."
European Automation's industry survey also analyses the role RFID technology could play in the intelligent factory of the future and how it could be related to innovative industry trends, such as Industry 4.0. Although RFID has been around since the Second World War, the technology can be made compatible with existing control systems such as SCADA and DCS, as well as with new generations of equipment, such as big data driven applications.
This is the first of six industry reports European Automation is planning over the next twelve months. The subsequent ones will focus on energy efficiency and sustainability, collapsing automation architecture, machine-to-machine communication and information security.