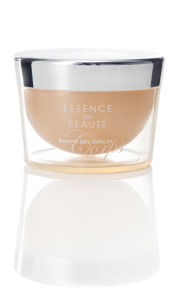 The latest innovation in anti-ageing products from Dr Pierre Ricaud, part of the Yves Rocher Group, is using a Diamond Jar from RPC Bramlage's standard range to help convey the product's luxury premium image.
The Essence de Beauté Indulgence Body Balm is described as a "genuine anti-ageing product specifically designed to activate five keys to younger skin, while treating the skin with a bewitching and irresistible nectar texture."
The injection moulded double walled 150ml Diamond Jar features a highly transparent outer layer, manufactured in Styrolux, complemented by a coloured inner layer in polypropylene. The high-end appearance is continued with a metallised PP lid.
Available in a range of sizes from 50 to 200ml, the Diamond Jar can be tailored to the precise requirements of each customer. With a choice of materials for the outer layer, there is also a variety of personalisation finishes, including colour matching, labelling, hot stamping, lacquering, metallisation, silk screen printing, sleeving and pad printing.