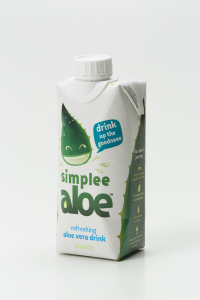 A new nationwide drinks brand is looking to introduce Brits to the health benefits of aloe vera. Simplee Aloe has just launched its first aloe vera drink in Whole Foods Market and Sainsbury's stores across the UK.
Founded by Alex Lai and Raymond Pang, Simple Aloe is on a mission to get more people drinking aloe vera. Known in Asia as 'nature's secret to health and youth', the plant based drink has been consumed for centuries and is famous for keeping skin healthy, boosting the immune system and detoxing.
With a growing UK market, Simplee Aloe plans to be at the forefront of aloe vera consumption with the first UK packaged aloe vera drink. Their ethos is simple: educate consumers about the health benefits of aloe vera whilst encouraging people to enjoy it in a refreshing and healthy drink.
Containing no artificial flavours or preservatives and using naturally occurring ingredients only, Simplee Aloe is never from concentrate. The first aloe vera drink to be packaged in Tetra Prisma® Aseptic 330ml cartons, it is available in both the easy 'Grab & Go' cartons and in a family sized 1 litre carton.
With fewer calories than an apple, Simplee Aloe has launched in Whole Foods Market with an RRP of £1.79, and is now available in approximately 250 Sainsbury's stores nationwide.
Alex Lai, co-founder at Simplee Aloe, said: "The health benefits of aloe vera are unrivalled; we like to call it 'nature's secret to health and youth'. We are incredibly excited to be able to offer these benefits to the UK market in the form of a delicious and refreshing drink. The Tetra Prisma® Aseptic carton with DreamCapTM fits perfectly with Simplee Aloe's commitment to providing a drink packed full of goodness that is easy to drink on-the-go."
Marketing manager at Tetra Pak UK & Ireland, Andrew Smith, added: "Simplee Aloe is a truly innovative brand, and we are excited to be working with them as they launch their first Simplee Aloe 'original' product. We know that consumers are becoming increasingly aware of the need to make healthy choices, and the goodness provided by Simple Aloe drinks in our Tetra Prisma® Aseptic 330ml cartons will be the perfect option for many people looking for a health boost while they're leading busy lives."