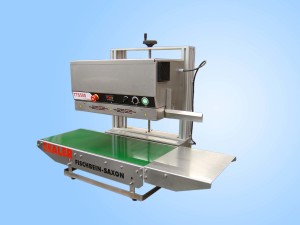 SAXON have expanded their sealer range with the addition of a new tabletop sealer. Designed to work on low-volume packers with low to medium packing speeds, sizes and weights, the TTS500 looks to satisfy maximum production demand with minimal investment.
The TTS500 sealer can be used to close open mouth polypropylene and polyethylene bags, paper bags with polypropylene and polyethylene inner lining, laminated bags and bags with gussets. Featuring an integral conveyor that can manage weights of up to 10kg, the TTS500's seal has a nominal width of 14mm, although this may vary according to bag shrinkage.
Ideally placed on a workbench or table, the TTS500 sealer is designed for low to medium productions runs where an industrial Saxon sealer is not required.
Available in both vertical and horizontal form, the Saxon TTS500 sealer will be unveiled at the upcoming Emballage exhibition in Paris and at UK exhibitions including LAMMA, EMPACK and PPMA.